Meet Our Staff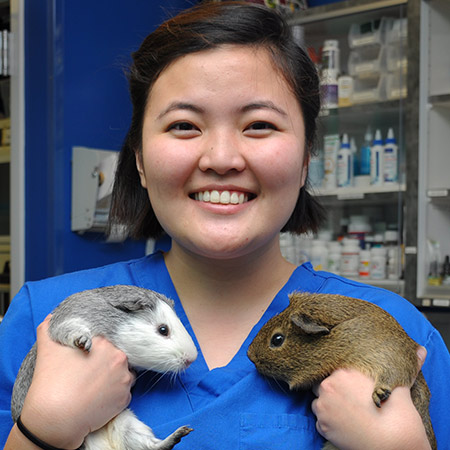 Deneise
Deneise graduated from Mount St. Mary's University with a B.S. in Health Sciences and minor in Psychology.
Deneise has always enjoyed taking care of animals. She grew up in the Philippines with her grandparents until she was 13 years old. She helped her grandparents look after their farm and properties. As a child, she cared for her grandparents' pigs, chickens, dogs and karabaos (a swamp-type water buffalo).
Deneise was on the road to pursuing a degree in nursing, when her interest shifted to working with animals. Prior to joining the MAEVC team, Deneise was a photographer and a dogwalker. She currently has five guinea pigs and four hamsters. If she had more space at home—without a doubt—she would take in more pigs. In addition to photographing pigs and hamsters at play, Deneise also likes to play videogames, try all sorts of food, and travel to places near and far.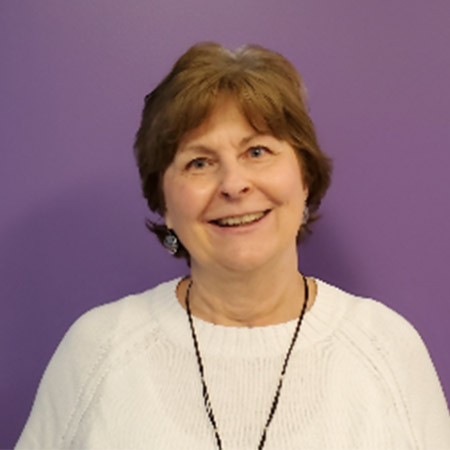 Charlotte
Charlotte grew up in California. She has a B.A. in English from UCLA with minor studies in Biochemistry. She worked for a Beverly Hills dermatologist, and then the American Heart Association, before finding a career as a research manager for a national news organization. Charlotte spent years helping her grandparents with the family farm, where they raised horses, a milk cow named Pearl, hundreds of chickens, and a variety of dogs and cats. She and her husband have three children and a betta fish named Princess Kate.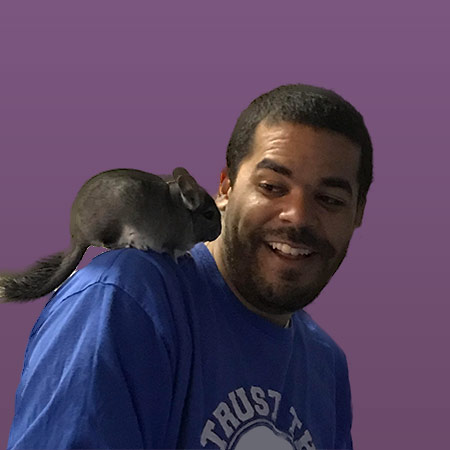 Stephen
Stephen recently obtained his Associate of Applied Science degree in Veterinary Technology and has become a licensed veterinary technician
For as long as Stephen can remember, he has always been interested in exotic animals. From always asking to see every pet at the pet store, to visiting every zoo he could get to, he always wanted to meet every unique animal he could. Prior to joining the MAEVC team, Stephen has worked at a variety of veterinary clinics with cats and dogs and has shifted his focus to exotic animals. He has previously volunteered at the Smithsonian National Zoo in their Amazonia and American Trail exhibits.
As of right now, Stephen lives with his chinchilla, JoJo. In between playtimes with his chin, Stephen enjoys cooking, volunteering and being outside in nature.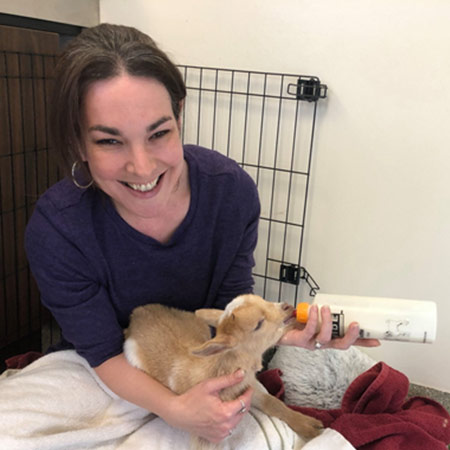 Sara
Sara grew up in Silver Spring Maryland and completed her Bachelor of Science degree in Animal Biotechnology and Conservation at Delaware Valley College. She started her career working in wildlife rehabilitation where she worked hands on with native birds, mammals, and reptiles. Sara also spent time working in a private zoo where she has the privilege of caring for and handling a wide variety of exotic species before moving on to animal shelter management where she spent the next twelve years in various roles before joining the MAEVC team. Sara currently lives in Silver Spring MD with her son, four rescue cats, Tristan, Sawyer, Sebastian, and Pretty Girl, three dwarf hamsters, and five fancy mice. When she's not working Sara enjoys spending time with her son cooking, hiking, and fostering kittens for the local animal shelter.